Another sewing entry.
She requested a tiered skirt to wear to tuition.
She just 9 years old but with her size, i almost fit in this skirt.
It is hard to find a 'young' prints cotton unless using polkadots and of course american cotton.
With a limited budget given to me, i found this cute print in nagoya. Just rm8 per metre.
Hope she loves this skirt.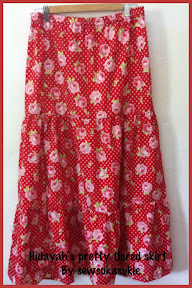 - Posted using BlogPress from my iPhone