Dah bersawang blog ni hehehe.
So many things had happened lately. Career, social and my life.
My officemates and i were surprised with news of office closure. Luckily, it doesn't materialise though that means no chance of saving 40++K in asb hahaha.
Issue with an unprofessional cloth pad maker (ok still owe my readers the complete details, though ada gak rasa kesian).
Up to this moment sewing is still my passion ( though not very sure how long it will stand hahaha).
Sedaq tak sedaq the holy ramadhan is almost over and i feel sad in a way ( not sure why).
Okie, cukup lah. Just sharing with u what i sew recently :).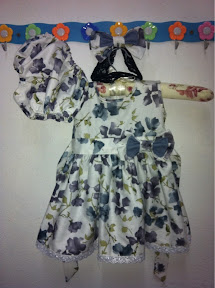 6mo dress set.
2yo old dress.
And the best thing is, i have my own label edi!!!
Sewsukasukie means i sew for fun :).
And a sneak peek on my raya skirt (in progress).
Cantik tak? Hehehe.
Kepada semua rakan2, pesanan dari saya:
1) balik kampung tu sentiasa pesan pada suami aka driver, pandu keta elok2.
2) jangan bg anak main mercun.
3) saya mohon maaf atas kesalahan saya, kot2 ada yg terguris hati dan perasaan dgn penulisan saya ni.
Selamat hari raya dari kami sekeluarga di R.U.M.A.H.K.A.M.I..
- Posted live from my iPhone