I just bought this cloth diaper via a group buy in Malaysian Cloth Diapering Parents ( a verrrryy dangerous fb group that can make you go bankrupt :p).
We bought the diaper from
Nicki's Diapers.
You can read all the features and description in the page.
Well actually I didn't know that this BestBottom is actually a A12. Blame me for not bothering with the research or even reading through the website. I was captivated with the prints the PINK GIRAFFE.
I thought it just another pocket diaper which I'd gradually stop buying.
When I received it I was like "yeay!!! it is a AI2!"
The thing is, we didn't buy the soaker as it may cause the shipping more.
So, we ended up buying the cover only.
I only have 2 AI2 brands in my stash. Grovia and Bamboolite.
Please click on the picture to enlarge it.

The shell is considerable thicker compare to normal PUL pocket CD.
Wish it will not prone to delamination in later days.
There are two snap buttons in the shell to snap in the soaker.
I'd tried with bamboolite insert but the buttons are not match. Both are female buttons.
Then I placed Grovia soaker in it and taaadaaaa.. yeay!! it fits in nicely.
Not that the snap is compatible but the length/width are so perfect.
I love the gusset on the shell, if I were to have a newborn in the future (plss ya mr asben...hehhehe), I will definitely hunt for this more.
The gusset is soo nicely made and I do believe it can contain explosive exclusive breastfeeding runny poo.
With double protection of Grovia gusset, you don't have to worry on leaks.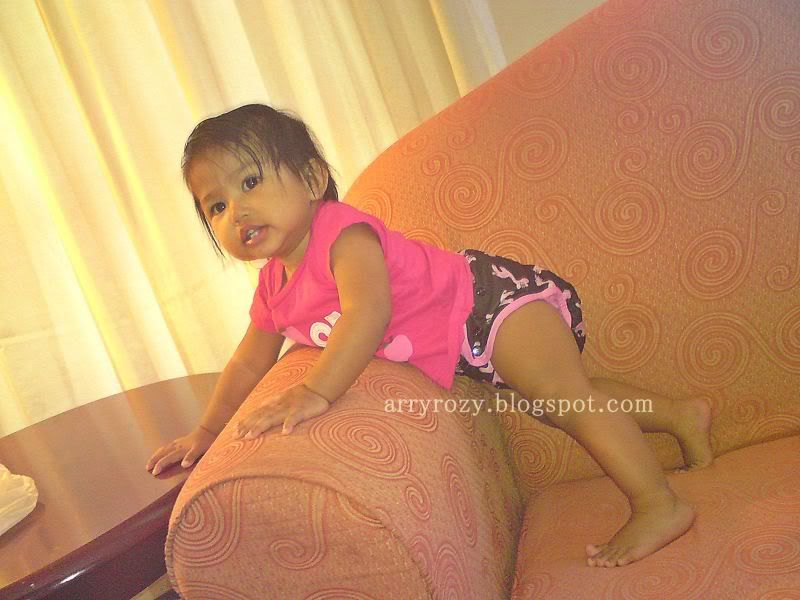 Next bonus is, Husna still on M setting, so giving more room for a growing bum. :)
Yesterday, she wore it for a good 5 hours with her sitting in a SSC during IKEA shopping and 3 hours drive on my lap.
No leaks no smell escaped.
In short, I'm loving it!!